Kenya's hopes of advancing to remaining rounds of the Cup Winners' Cup received a major boost after they beat England 19-14 in their second match of the day played at Dignity Park.
It was a tight game, but Kenya was able to squeak out the win!
Their win sees Shujaa climb to four points after two matches, and will qualify for the quarters if they beat Scotland in the final game.
Billy Odhiambo's 100th World Series Try
Ambaka scored first, with Oliech converting ahead of time. This was followed by the amazing Billy Odhiambo scoring his 100 World Series try to put Shujaa up 12-0 at halftime.
When Ambaka crashed over for his brace, Oliech converted for a 19-0 advantage before England enjoyed a period of Kenyan indiscipline that saw Odhiambo sent to the sin bin for a lifting tackle, followed by Wekesa for a late penalty.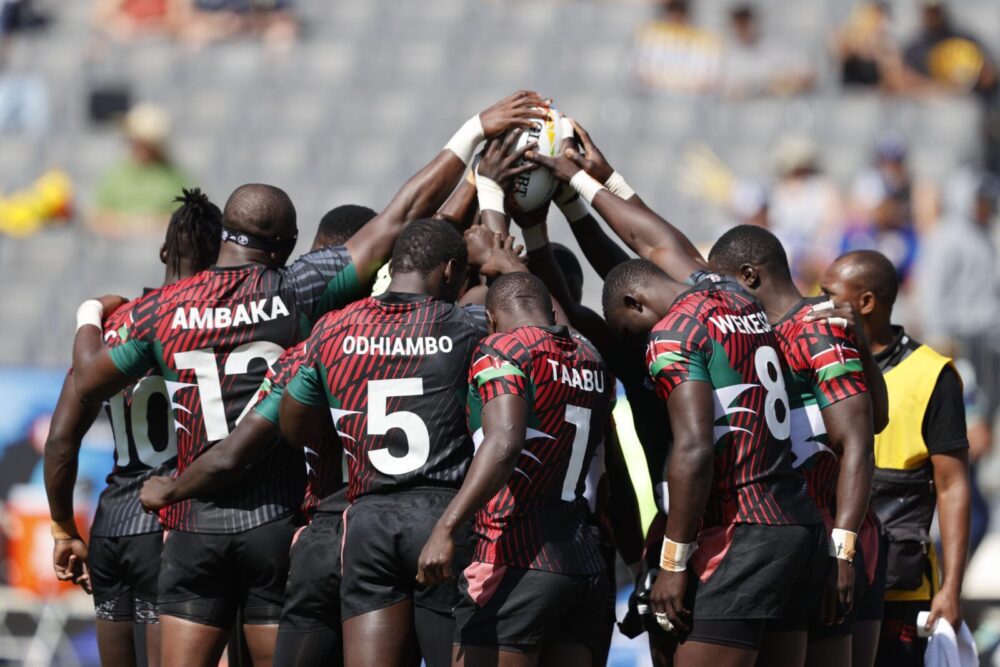 Kenya Sevens players huddle. PHOTO/World 7s Series
Tom Mitchell converted Charlton Kerr's try at the death but Shujaa held on for the win.
Shujaa's next game is against Scotland at 2.26 am EAT on Sunday 28 August 2022.
Current LA Sevens Rankings
Due to the effects the global epidemic, this years Series has a scoring system in which a teams scores are derived by taking their best seven results, from the nine Series events.
As South Africa won the first four tournaments of the 2022 Series, they are currently leading the way on 124 points and would claim the Series title should they reach the final in LA. Australia are two points behind and Argentina a further four adrift.
Kenya Sevens in Pool D. PHOTO/World 7s Series